How to Make Your Small Kitchen Look Bigger
Homeowners need to know that kitchen renovations for the purpose of adding more space need not be costly. How can this be done? Here are some tips on how you can make your small kitchen look bigger on a budget.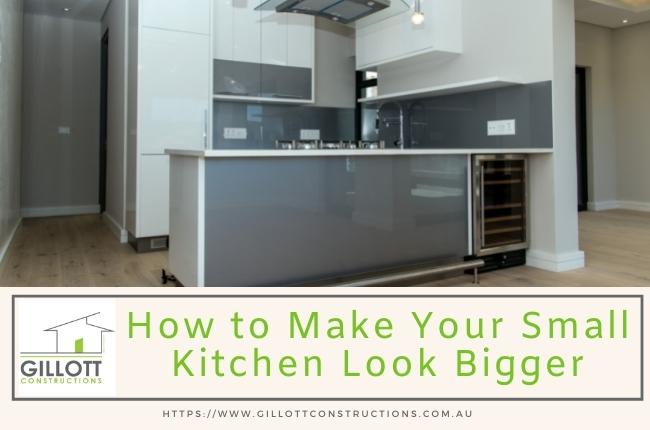 Add Wall-Mounted Storages
The most common issue regarding kitchen renovations is the need for storage. We have supplies, utensils, cookware, and dinnerware that need to be neatly stored. However, many of us fail to recognize that vertical space (wall) is a very effective way to solve this problem.
To keep counters uncluttered, try to add display hooks, wall racks, and open shelves on the walls. Not only will essentials like condiments and hand towels be within reach, but you'll also have extra room to work.
Minimize Doors and Shift to Drawers
When attempting to find space for all of your pots, cookware, and dinnerware, cupboards may quickly get overcrowded. Switching to drawers is a wonderful solution in this case. Renovating cabinet doors into drawers will help you make the most of your kitchen space. Drawers require lesser floor space when being opened compared to cabinet doors. Moreover, pullout cabinets can be as slim as you want without compromising functionality.
Opt for Slim Furniture
If your kitchen space is already small, having massive kitchen cabinets is a no-no. Sure, wide and decorative kitchen cabinets are nice to look at, but they do consume a lot of floor space as well. There are many designs for slim kitchen furniture in the market today. Try to consider slim cabinets, slim tables, and stools instead of benches.
Shift to Smaller Sink
Kitchen sinks tend to occupy quite a large space in our kitchens. When you are using a dishwasher, there's no actual need for a large sink. By reducing the size or only choosing 1 single bowl sink will greatly add to the floor space of your kitchen.
Repaint Your Kitchen White
Repainting your kitchen can be the least expensive renovation idea that actually works. Paint colours create several visual illusions to a room and playing with colours can make a room look more spacious. White, for instance, is not just a classic colour, it also makes your kitchen appear larger than it is.
When remodelling your kitchen, paint the walls white and use white tones on the shelves and kitchen counter. Aside from making the kitchen look spacious, white colour also has a calming effect. It's not tiring to look at white walls and it even makes the room more elegant.
Where Should You Go To For Your Kitchen Renovation?
Planning to renovate your kitchen soon? We are here to help! Gillott Constructions is a local builder in Queensland with years of experience in small space kitchen renovations. Make your kitchen more functional. Talk to us today!